Saint-Emilion, a place to enjoy gastronomy
Inspectors awarded 70 new stars in the Michelin Guide France for 2017, revealed at a ceremony in Paris on February 9th. Several Bordeaux château owners had reasons to celebrate.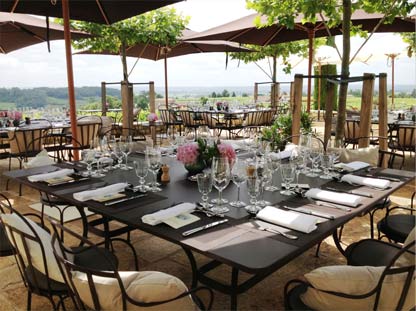 The Logis de la Cadène restaurant in St-Emilion gained its first star. Logis de la Cadène is one of St-Emilion's oldest restaurants. The Michelin star will be a welcome endorsement for Boüard de Laforest family, owners of nearby Château Angélus, who acquired the restaurant in 2013. It is also a fillip for the restaurant's 29-year-old chef, Alexandre Baumard.
Château Pavie, which was upgraded alongside Angélus, also saw its Hostellerie de la Plaisance restaurant upgraded from one star to two.
Last but not least, there is Les Belles Perdrix, who maintains its 1 star. Owned by and adjecent to Château Troplong Mondot, this restaurant benefits from an exceptional location high up in the rolling vineyards of Saint-Emilion.
In 2017 the small and charming medieval village of Saint-Emilion offers no less than 3 Michelin-starred restaurants. It is time to come and discover!
B&B Bleu Raisin is situated at no more than 15 minutes from all of these the restaurants. Waking up with a view to the vineyards is all you need to complete your journey to the Bordeaux region: https://www.bleuraisin.com/en/
Source: decanter.com